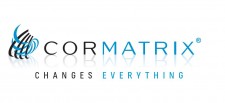 Roswell, GA, January 19, 2017 (Newswire.com) - ​CorMatrix® Cardiovascular, Inc., (www.cormatrix.com) a leading developer of biomaterial compositions and medical devices for regenerative medicine, today announced the issuance of 56 patents in 2016. The ongoing expansion of this patent portfolio continues to support the Company's development of novel extracellular matrix (ECM®) based devices and compositions.
Of the fifty-six patents, 19 were obtained internationally. CorMatrix currently holds 13 trademarks related to its Extracellular Matrix products and the Company has secured some 128 patents affording significant intellectual property protection in the area of regenerative medicine. CorMatrix ECM is a naturally occurring bioscaffold that remodels over time into healthy, organized tissue that is site specific.
CorMatrix's intellectual property portfolio is outstanding. We have very comprehensive coverage of not only the ECM devices we provide to our core markets, but also of the innovations that can find applications in other important areas of regenerative medicine.

Dr. Robert Matheny, Chief Scientific Officer, CorMatrix Cardiovascular, Inc.
"CorMatrix's intellectual property portfolio is outstanding. We have very comprehensive coverage of not only the ECM devices we provide to our core markets, but also of the innovations that can find applications in other important areas of regenerative medicine," said Robert Matheny, MD, CSO of CorMatrix. "From the beginning, we recognized the importance of developing and then protecting our technology. As a pioneer in the field of regenerative science since 2001, having our patents recognized by offices around the globe (United States, Europe, South America, Australia and others) is a source of pride for the entire Company, our Partners, and our Investors."
Extracellular matrix has been used as a biologic scaffold in many different surgical applications including cardiac and vascular repairs, pelvic floor reconstructions, dental surgery, and veterinary medicine to identify a few. A steady production of both preclinical and clinical data support the need for organs and tissues to have an inductive scaffold for the cells, particularly stem cells, to be retained, restored, and to function normally.
Among the patents issued this year, CorMatrix secured US 9,352,070 for use as a tissue prosthesis which can be engineered into a variety of shapes and used to repair, reconstruct or replace damaged or diseased tissue and the associated biological structures. This includes seamless tubular uses (for vein and arterial replacements), heart valves, myocardium, pericardium and other significant aortic structures. Use of ECM as a prosthetic also could also be extended to esophageal, tracheal, and bronchial anatomy. The Company currently has 510(k) clearances for their implantable ECM devices used in adult and pediatric cardiac tissue repair, pericardial reconstruction, and vascular repair.
Two additional patents, US 8,980,296 and US 8,877,224; along with the issuance of European patent No. 2398502, may significantly address issues surrounding the prevention, reduction, and treatment of myocardial damage and arrhythmic sequelae. Atrial fibrillation, (AFib or AF) is the most common type of heart arrhythmia and affects an estimated 3-6 million people in the United States. More than 750,000 hospitalizations occur each year because of AFib and cost the United States approximately $6 billion each year. Through these patents, micronized extracellular matrix (with or without stem cells) is delivered via intra-myocardial injection into the area of infarct enabling regrowth and restoration of the native cardiac function. Medical costs for people with AFib are almost $9K higher per year than for people who do not have AFib.1, 2
"Our CorMatrix technology backed by the Company's patents is harnessing the potential of stem cells and matrix factors working together to regenerate site specific tissue," said Andrew Green, CEO of CorMatrix. "We now have preclinical and human evidence of regenerating heart muscle after myocardial infarctions and myocardial tissue replacement treatments. No other company, stem cell based or otherwise, has been able to demonstrate this concept. Now our goal is to make it available around the world."
About CorMatrix
CorMatrix® Cardiovascular, Inc. is a privately held medical device company dedicated to developing and delivering innovative biomaterial devices that harness the body's own innate ability to repair damaged cardiac and vascular tissues. CorMatrix ECM Technology allows surgeons to restore the native anatomy of cardiac and vascular tissue in need of repair, serving as a superior alternative to synthetic or cross-linked materials. Headquartered in Roswell, Georgia, the Company is currently researching, developing, and commercializing a platform technology known as CorMatrix® ECM® for a variety of cardiovascular and other indications, and has U.S. clearance and European registration (with a CE Mark) for its ECM® technology. Since its launch in 2006, CorMatrix® ECM® Technology has been used at more than 1000 hospitals across the U.S. and has been implanted in over 145,000 cardiovascular procedures. Visit cormatrix.com for additional information.
1 January CT, Wann LS, Alpert JS, Calkins H, Cigarroa JE, Cleveland JC Jr, et al. 2014 AHA/ACC/HRS guideline for the management of patients with atrial fibrillation. Journal of the American College of Cardiology. 2014; 64(21):2246–80.
2Mozaffarian D, Benjamin EJ, Go AS, Arnett DK, Blaha MJ, Cushman M, et al. Heart disease and stroke statistics—2015 update: a report from the American Heart Association. Circulation. 2015; 131:e29–e322.
Source: CorMatrix Cardiovascular, Inc.
Share: