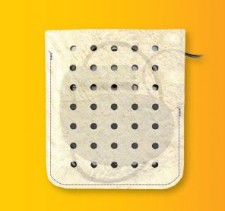 Roswell, GA, March 28, 2017 (Newswire.com) - CorMatrix® Cardiovascular Incorporated, a company specializing in Extracellular Matrix (ECM®) Regenerative technology announced today that the U.S. Patent and Trademark Office has officially allowed two (2) additional claim sets under U.S. Patent Nos. 14/833,354 and 14/833,340 for its CorMatrix® CanGaroo® ECM® envelope system. The CanGaroo® system comprises a unique ECM® envelope that is configured to encase implantable cardiac devices (CIED's), including pacemakers and cardioverter defibrillators (ICD's). The CorMatrix ECM® envelope, when implanted in a subject, remodels over time into healthy, vascularized and organized tissue. CorMatrix received FDA clearance to market the CanGaroo® system in August of 2014.
With the issuance of the two (2) additional U.S. Patents, CorMatrix will possess eight (8) U.S. patents embodying its unique CanGaroo® system. An additional thirty-two (32) U.S. and International patent applications patents embodying the CanGaroo® system are also pending.
"The CanGaroo® system and these patent innovations are important particularly for patients who require the use of other implantable devices—even beyond CIEDs."

Robert Matheny, M.D., Chief Scientific Officer
"In 2016 alone, we were issued fifty-six (56) U.S. and International patents in support of our regenerative ECM® platform. Early in 2001, as pioneers in the field of stem-cell based regenerative medicine, we recognized the importance of ECM as a medical device technology. These additional patents, along with our ever-expanding patent portfolio, are a significant achievement affording us intellectual property protection in the area of regenerative medicine. We are very proud of our IP portfolio and will continue to pursue these protections," said Andrew M. Green, President and CEO of CorMatrix®.
The CanGaroo® system differs from other device pockets on the market because it's made from natural tissue (porcine derived ECM) and not synthetic materials. When synthetic material is implanted, inflammatory "M1" macrophages (a type of white blood cell) are triggered 1,2 which can result in fibrotic scar formation. The CorMatrix CanGaroo is made from ECM—a naturally-occurring bioscaffold that encourages a healing "M2" macrophage response 1,2 which has reduced inflammatory factors, and enables remodeling into normal vascularized tissue versus scar formation. It conforms to CIEDs and may ease their removal during exchanges or revisions. In addition, the CanGaroo® envelope is soft and supple, with no sharp edges, which may enhance patient comfort.
"The CanGaroo® system and these patent innovations are important particularly for patients who require the use of other implantable devices—even beyond CIEDs," said Robert Matheny, MD and CSO of CorMatrix®. "The protective effect, to both the implanted device and the patient, can be enhanced by placing the device within the CorMatrix CanGaroo®. With an increasingly aging population it is important to avoid problems and possible outcomes that can land a patient back in the hospital. Additionally, recently published data demonstrating a lower-than-expected infection rate with these implants will further this goal in the future."3
About CorMatrix®
CorMatrix® Cardiovascular, Inc. is a privately held medical device company dedicated to developing and delivering innovative biomaterial devices that harness the body's own innate ability to repair damaged cardiac and vascular tissues. CorMatrix® ECM® Technology allows surgeons to restore the native anatomy of cardiac and vascular tissue in need of repair, serving as a superior alternative to synthetic or cross-linked materials. Headquartered in Roswell, Georgia, the Company is currently researching, developing, and commercializing a platform technology known as CorMatrix® ECM® for a variety of cardiovascular and other indications, and has U.S. clearance and European registration (with a CE Mark) for its ECM® technology. Since its launch in 2006, CorMatrix® ECM® Technology has been used at more than 1000 hospitals across the U.S. and has been implanted in over 145,000 cardiovascular procedures. Visit cormatrix.com for additional information.
###
1ECM-Based Materials in Cardiovascular Applications: Inherent Healing Potential and Augmentation of Native Regenerative Processes Anna V. Piterina, Aidan J. Cloonan, Claire L. Meaney, Laura M. Davis, Anthony Callanan, Michael T. Walsh and Tim M. McGloughlin; Int. J. Mol. Sci. 2009, 10(10), 4375-4417; doi: 10.3390/ijms10104375
2 Exploring the full spectrum of macrophage activation David M. Mosser and Justin P. Edwards, Department of Cell Biology and Molecular Genetics and the Maryland Pathogen Research Institute, University of Maryland, College Park, Mary­land 20742, USA. Nat Rev Immunol. 2008 December; 8(12): 958–969. doi: 10.1038/nri2448.
3 Enhanced Antimicrobial Effects of Decellularized Extracellular Matrix (CorMatrix) with Added Vancomycin and Gentamicin for Device Implant Protection T. Deering, MD, FACC, FACP, FHRS, C. Chang, PhD,‡ C. Snyder, CQE,‡ S. Natarajan, PhD‡ Robert Matheny, MD, FACS‡ doi:10.1111/pace.13061.
Source: CorMatrix Cardiovascular Inc.
Share: